For several years after independence, the power circles in India were distinctly uncomfortable with any notion that Indian culture could be magnificent. Be it Indian culture, products or ideas – even when they were celebrated abroad, they hardly attracted favourable attention from the Indian political dispensation.
The story, the mindset and disregard have been on a swift decline since the rise of the BJP and especially since 2014. Today, the Indian government and its wings are not only restoring our heritage but they are also helping other nations restore theirs as well.
If today, we are proud of our achievements, our gains and our fellow citizens, it is because our leadership too takes pride in Indian efforts – however grand or basic they may be.
It took us more than 70 years to initiate the process of reversing a mindset looking down upon our own culture and civilisation. But the last seven years have, of course, been most significant.
The colonisers are long gone. The colonial mindset too, is now finally seeing the door out.
One of the finest examples of this can very easily be found in the transformation of the oldest living cities – in India and the world – Varanasi; or as we have always called it, Kashi.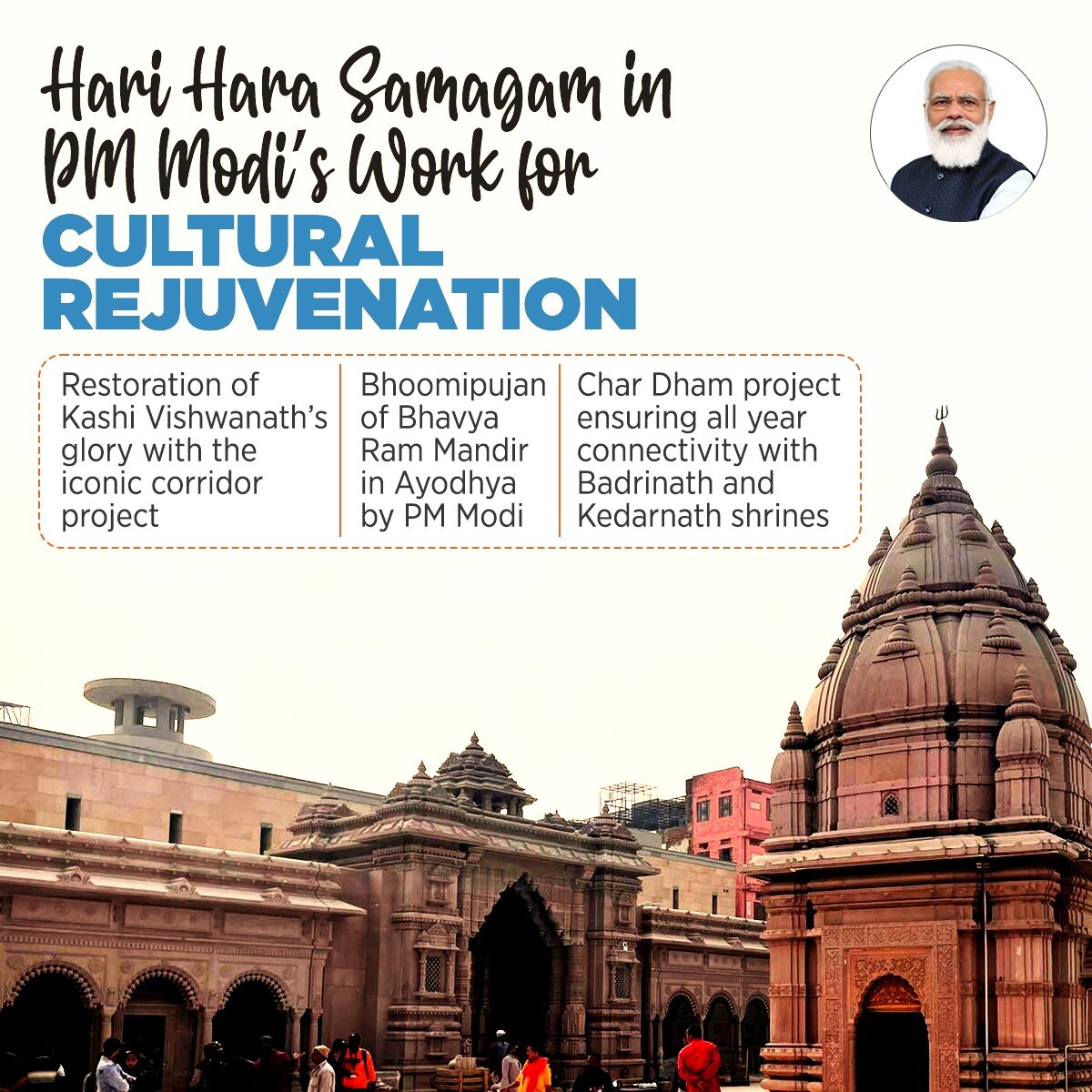 Winds of Change Come to Kashi
Kashi is a city India has always revered. Every day, thousands of devotees from every corner of India stream into this holy city. They would brave narrow lanes, lack of facilities and clutter to have a darshan of Baba Vishwanath or a dip in the Ganga.
Such was the state, particularly in and around the mandir, the area would remain cramped, bustling with crowds of devotees throughout the day, but infrastructure almost never improved.
But isn't it the duty of a government to ensure that devotees have a pleasant experience in which their complete focus is on Baba Vishwanath and not on avoiding troubles?
But now, it is all changing. Brick by brick, project after project, Varanasi is changing.
Be it the widening of National Highways, the up-gradation of the Panchkosi Parikrama Marg, Multi-modal transport terminals, multi-level parking spaces like at Gowdolia, the Rudraksh convention centre, the state-of-the-art sewage treatment framework or the Integrated command and control centre – the PM Modi-led administration went to work in Kashi with complete dedication and managed to make one of the oldest Indian cities even better.
It is for this very reason that the people of Kashi have embraced the restoration of Kashi's glory so whole heartedly. Here is a person who is working hard to restore the glory of the heart of Indian civilization and making lives easier for its people who have aspirations of the twenty first century. That has been the vision of the people of Kashi, and it is this very vision that the PM has sought to implement in his duty towards the people.
The long-awaited addition
The biggest and most magnificent upgrade for Kashi has been one offered to Baba Vishwanath – the Kashi Vishwanath Corridor.
Unlike the years preceding our independence, this impressive project has been envisioned not to enhance the splendour of a foreign empire, but that of our own culture, our country and India's civilization.
Where the ghats earlier gave way to narrow alleys, there now stands a vast, open corridor complete with a tourist facilitation centre, a viewing gallery and a café for those who need refreshments. A magnificent promenade then leads onward to a Vedic Kendra, a toilet block, an opulent gallery and a museum that documents this ancient city's incredible journey over the years.
This is where the magnificent gates of the Mandir chowk (main temple area) welcome devotees into the vast courtyard that is befitting Baba Vishwanath's grand stature. To facilitate the pilgrims, a guest house has also been placed close to the Chowk.
Finally, proceeding further will bring people to the temple complex that has been designed keeping in mind requirements like a Bhogshala, a pavilion, a facilitation centre etc. that will make any and every activity associated with the temple wonderfully organized.
After having witnessed Lord Shiva in all his humbling magnificence, yet another facilitation centre has been provided, in case there might still be assistance that a devotee may need.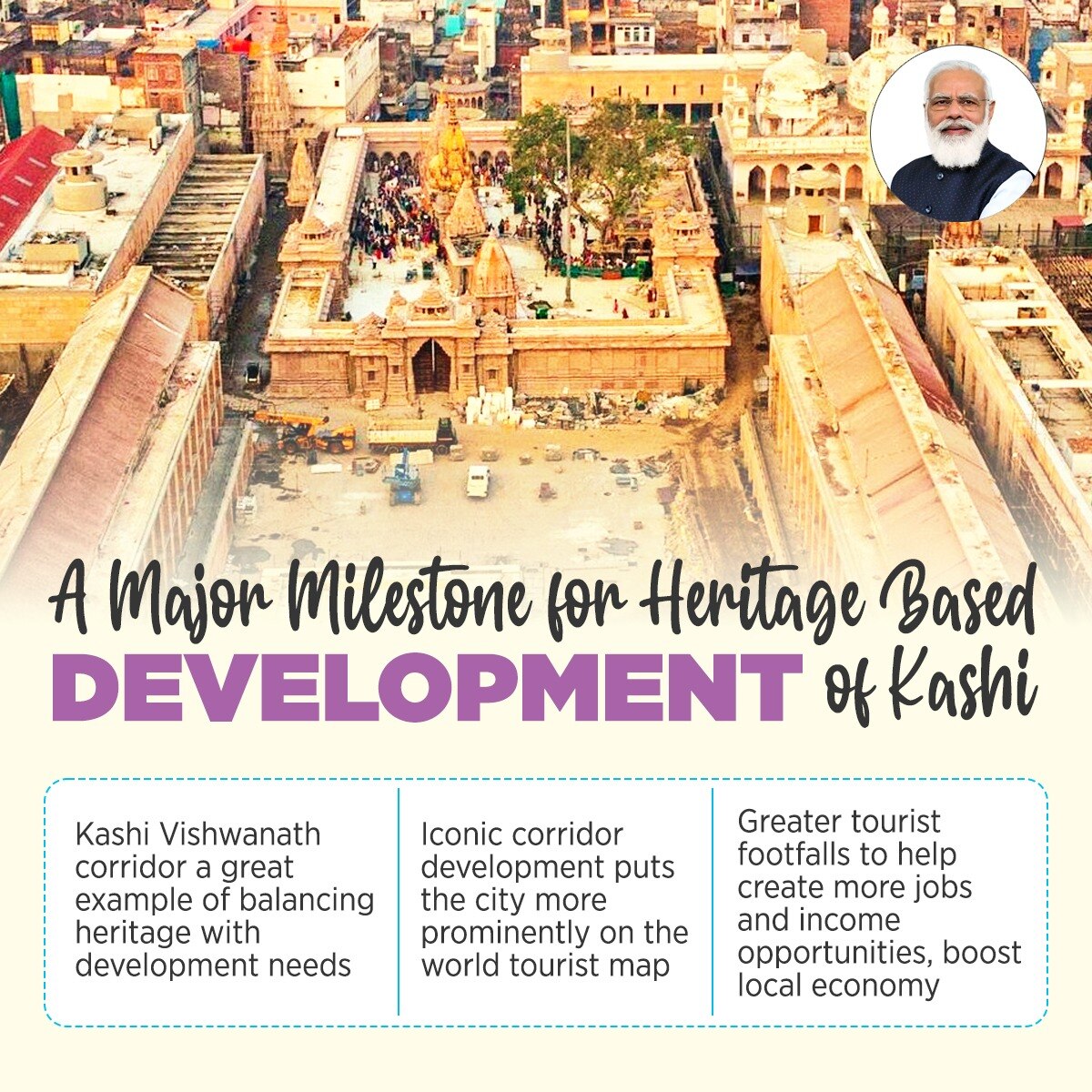 The key takeaway is clear – even as hundreds or even millions of devotees make their way across from the ghat, at no single point will they be inconvenienced. Throughout their journey, at no point will they feel confused or confounded. Most importantly, at every step, they will undeniably be aware of the immeasurable devotion of over a billion Indians and their love for their culture, their beloved Kashi and its deity – Baba Vishwanath.
With the Kashi Vishwanath Corridor, cluttered confusion has given way to magnificent clarity that is, in all senses of the word – quintessentially Indian.
A different approach
For a city that has continued to thrive despite centuries of foreign rule and oppression, change was long coming. And when it has finally come – it has surely been worth the wait.
What it needed was the will to see it through and PM Modi has never been short of that – if anything.
Not only has the Kashi Vishwanath Corridor been designed keeping in mind local sensibilities and using local materials and resources - be it stones or those that shape them – it has been envisioned for those that needed it the most i.e., the devotees.
This wonderful and state-of-the-art upgrade is of course supported by the multi-sectoral, all-round developments that are making Kashi a Smart City. After a long time, Indians will have chance to bask in the glory that Baba Vishwanath's temple has always carried in the minds of the people since millennia.
The very idea of this corridor is enough to inject confidence and pride in Indians not just in Kashi, but across the world. Under PM Modi's leadership, India's vibrant cultural heritage has not just thrived, it is finally being accorded the respect and appreciation it deserves. An example can easily be drawn from the fact that participants of the 2019 Pravasi Bhartiya Diwas had specifically requested the inclusion of Varanasi and India's Republic Day in the programme itinerary. Is this not proof enough that each one of us is proud of our culture and our achievements – the millennia through which our civilization has survived and the incredible achievements it is capable of today?
The realisation that India's capabilities are second to none, her innovative prowess when coupled with the idea of self-reliance - is an extremely powerful mix that has fuelled widespread welfare. To finally emerge from the shackles of a colonial mindset, our nation needed to believe that together, we could achieve any dream. With the vision of Aatmanirbharta, this has come true.
Such is the power of an able leader; such is the effect of visionary leadership. Today, with PM Modi at the helm, India is not just righting historical injustices, it is also assuming its rightful place in the world. It is advancing in leaps and bounds with a seamless blend of the ancient with the modern – a blend that doesn't restrict, but empowers. What better example of this than Kashi?