A pilgrim visiting Kashi after many years would perhaps feel astounded at the unprecedented development that has taken place in the eternal City of Lights. Kashi remains in continued focus as Prime Minister Narendra Modi is its elected representative in the Parliament. Thanks to this special position, gone are the days when Kashi was treated as a cash cow for tourism, with all its infrastructural needs being conveniently ignored.
Maximising Connectivity Across Kashi
A big push has been made to improve road connectivity to and across Varanasi. The much needed 6-lane widening project of the Varanasi - Prayagraj section of NH-19 has been started, and this widening will significantly reduce congestion and traffic for vehicles plying towards Varanasi. Another 3-lane flyover over the Varanasi-Ghazipur Road has been inaugurated, and a ₹119 crore project to rebuild Rural Link Road has been initiated. All these projects help to reduce traffic jams.
The Panchkosi Parikrama Marg is also being widened, thus ensuring further ease in congestion on this arterial road. Additionally, a multilevel parking has been opened in Godaulia, thus enabling congestion-free and safe parking facilities.
To further strengthen Kashi as a pilgrimage hub and connecting it to other major pilgrim centres across the country, the Kashi Mahakal Express connecting the three Jyotirlinga pilgrim centres – Varanasi, Ujjain and Omkareshwar has been started. This train is a corporate train run by IRCTC, and provides the best of comfort and travel experience. It is a fully AC train fitted with several amenities like on-board passenger entertainment system, modular bio-toilets, fire and smoke detection and suppressant system, comfortable berths, making the commute a pleasurable experience.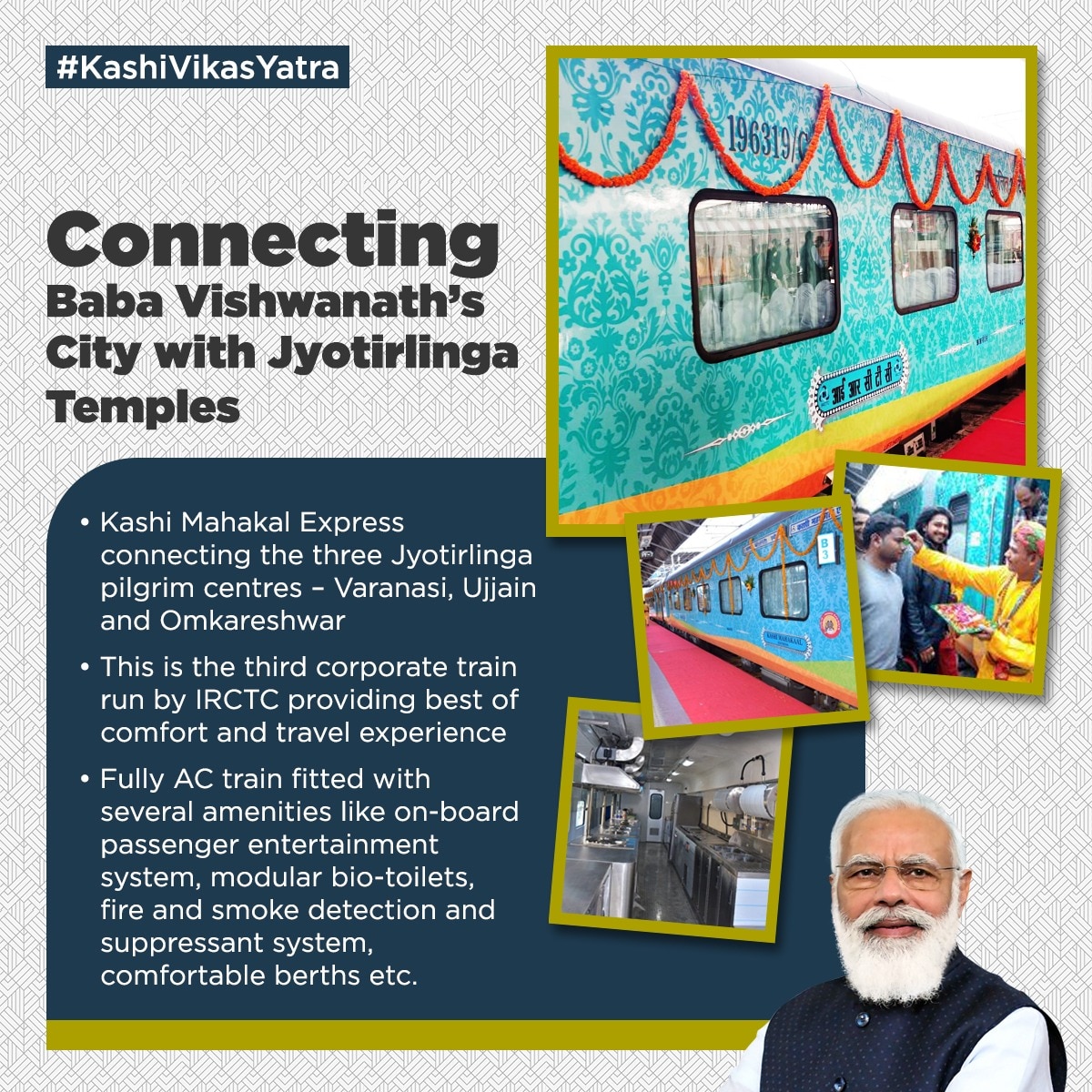 Overhaul and Upgradation of Sewage System
Leaking sewer lines and overflowing sewage was a perennial problem, and often times led to great trouble for the people of Varanasi. As a major problem in the city, it caused several challenges – it was not only posing a major health hazard for residents, but also affected the flow of Maa Ganga. With PM Modi coming in as the MP, a sea change has been ushered in. Major steps have been taken to overhaul and upgrade sewage system in Kashi, with the installation of online effluent monitoring systems and SCADA automation at ghats and sewage pumping stations to ensure that actionable information is available at all times. New sewer lines have also been laid down in the Mohan Katara Koniya Ghat area and between Mukimganj and Machodari areas using the transverse technique, thus causing minimal disturbance. Moreover, with the upgrade and electrification of Koniya sewage pumping station, things are swiftly changing for the better.
Not to forget the drinking water demands of the constituency, a number of steps have been undertaken. With the important upgrades to the cis-Varuna and Trans-Varuna water schemes and a slew of projects under various schemes being launched, both rural and urban areas are seeing better water supply becoming a part of their daily lives. Additionally, Jal Jeevan Mission projects worth ₹428.54 crore are being carried out across 143 rural belts, while water supply and sewage works under Ganga Action plan have been initiated in urban areas of City South, Cantonment and City North assembly areas.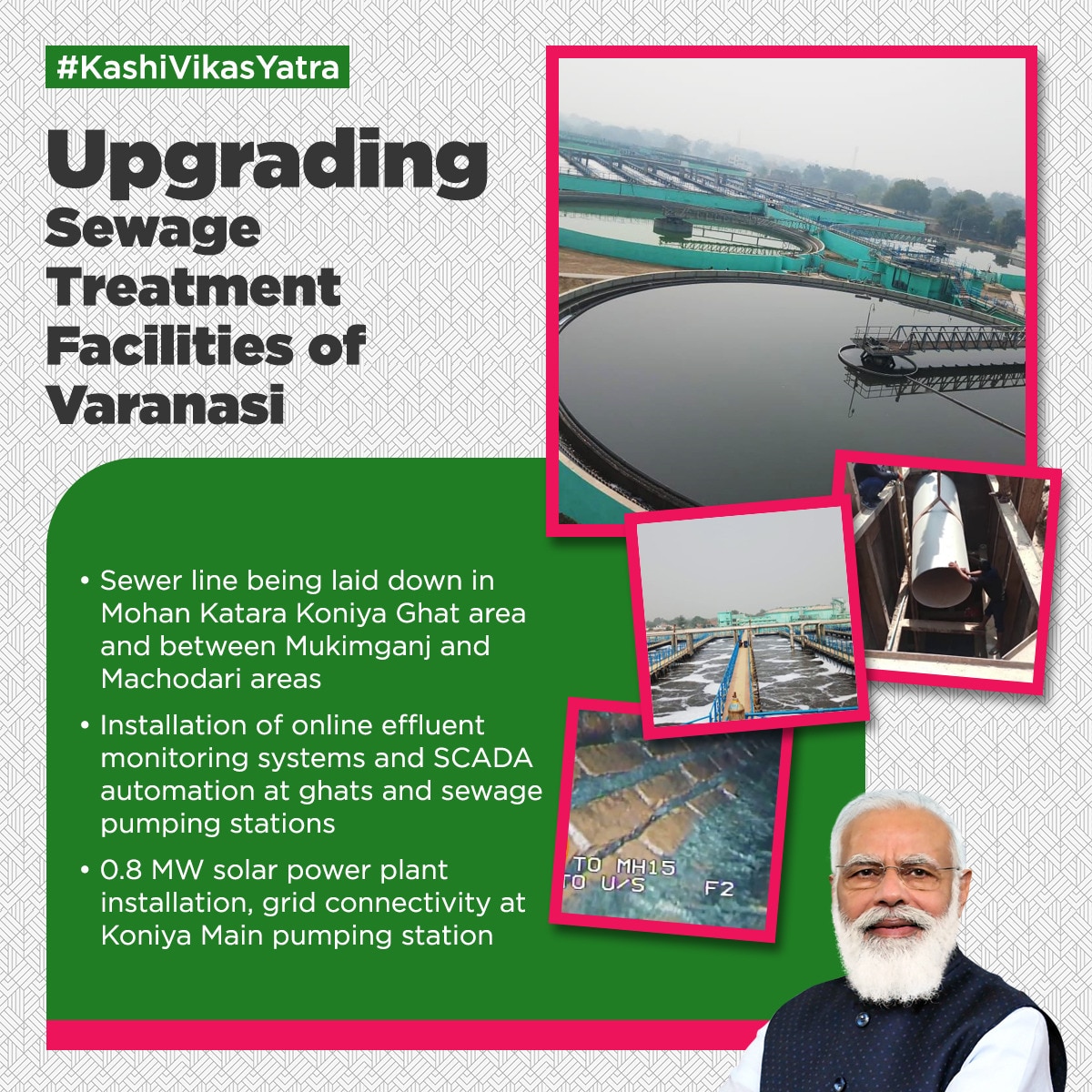 Maximising the 'Kashi Experience'
Thanks to the Smart City project made possible by PM Modi's efforts, an Integrated Command and Control (ICC) Centre for traffic and police management system, and medical emergencies has been operationalised. This ICC centre also proved to be of great help during the pandemic as it served as a node of coordination between various administrative departments and arranging logistics simultaneously. Additionally, 3,000 CCTV cameras have also been installed at critical points across 720 locations to ensure smart policing and make Kashi much safer place for pilgrims and residents alike.
LED screens have also been placed at six locations across the city. These screens display important information on the city for tourists and locals alike, including its history, architecture and art, and also provide information of significant benefit for devotees. The broadcast of the famous Ganga Aarti and the aarti of the Kashi Vishwanath temple will be done through the screens throughout the entire city through big screens, thus helping people witness the divine moments even if not physically present.
In a further boost to augmenting facilities that encourage tourism, Roll on-Roll off (Ro-Ro) vessels have been deployed on the Ganga river alongside a state-of-the-art cruise facility being operationalized from Ramnagar Ghat for the enjoyment and benefit of tourists. These facilities are meant to enable tourists to fully experience the divine Ganga Aarti from vantage points in the middle of the river the ro-ro facility and cruise.
Efforts have been made to beautify the urban landscape of the city and make it more accessible. Be it the lighting up of the Townhall or the beautification of the Lahartara-Chaukaghat flyover replete with a food court and open café, no stone is being left unturned to ensure work on this front. The beautification and upgrade of 4 major parks in Varanasi being carried out also indicates the appreciation for the day-to-day lives being made more functional and aesthetic for the locals of Varanasi.
The double engine government in Uttar Pradesh is working at break neck speed to enhance the spiritual experience of visiting pilgrims as well as ease of living for its residents. With PM Modi personally steering the effort to make Kashi a city that is modern and ancient, the emerging picture will ensure that the glory of the City of Lights shines through.